Syria's 'disappeared': families demand to know fate of their loved ones
In Syria, over 60,000 people are missing – detained by the state or rebel groups. Relatives are pleading to the UN to find out what happened to them
When the Syrian uprising began as a series of peaceful protests in 2011 Yahia and Maen Shorbaji helped to coordinate demonstrations. The two brothers lived in a suburb of Damascus with their parents, four other brothers and sister, Bayan.
It wasn't long before the crackdown began. Maen was arrested first during a raid on a friend's house. He was taken to an area in the outskirts of the city and beaten. It quickly emerged that the police also wanted to arrest Yahia. The police forced Maen to call his brother and tell him that he needed help. Yahia came straight away. He tried to run away, but was arrested.
Relatives of detained and disappeared Syrians march silently outside peace talks at the Palais des Nations in Geneva. Photograph: Dylan Collins/Families for Freedom
During the six years since then, the Shorbaji family have heard nothing. They don't know which prison Maen and Yahia are held in, nor whether they are alive.
"We tried a lot to acquire a visit," says Bayan Shorbaji. "We didn't get any news. Are they alive, are they dead? We have no information about them, and our requests for visits would always be refused." Bayan, who is 31, now lives in Leeds with her husband and three children. It was not safe for the family to remain in Syria – they were all targets for the regime. The rest of her family are in Egypt.
According to the Syrian Network for Human Rights, a UK-based monitoring group, more than 65,000 people have disappeared in Syria since 2011 and over 200,000 are being held in prison by the regime. Many have been arbitrarily arrested on spurious charges. Others are victims of enforced disappearance, when a person is detained, usually by the state, which then denies the person is in custody. This places the person outside the protection of the law. Access to justice and inclusive institutions is one of the UN's sustainable development goals – which is clearly not being met for Syrians.
Amnesty International describes widespread disappearances in Syria as "a largely unseen but egregious human rights violation". Yet action has been lacking; efforts to negotiate with the Syrian regime have been largely unsuccessful across the board, and on the international stage the large numbers of civilian deaths and refugees crowd out the issue of arbitrary arrests.
Human rights abuses in Syria are committed by all sides and rebel groups are responsible for some of the disappearances and detentions, but the vast majority are held by the state. "The disappeared are held in a nightmarish network of detention centres and secret prisons," says Nicolette Boehland, one of the researchers on Amnesty's 2015 report into the issue. "The system of disappearances has become so developed that now people take advantage of it for their own gain."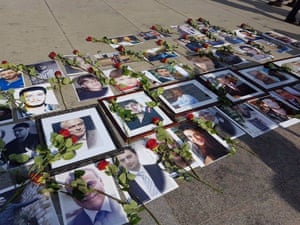 FacebookTwitterPinterest Photographs of missing relatives on the pavement at the Families for Freedom protest at the Syria peace talks in Geneva. Photograph: Dylan Collins/Families for Freedom

In February 2016, Shorbaji and four other Syrian women decided to take action, forming a pressure group called Families for Freedom, with logistical support from three Syrian grassroots organisations – the Syria Campaign, Women Now for Development and Dawlaty.

"So many families in Syria have detainees, brothers, family, fathers, and husbands," says Shorbaji. "Because of this suffering and this pain, we decided to create a small group to be the voice of detainees, and demand their rights, and not forget them. It is a humanitarian issue above all."

In May this year, the women staged a sit-in outside international peace talks in Geneva. The women, accompanied by other supporters, held candles and framed photographs of their detained loved ones. One woman, Fadwa Mahmoud, wept as she explained that she did not know which of her many detained relatives to hold a photograph for.

Amina Khawlani, another campaigner, knows first-hand the horrors of being in a Syrian prison; she was detained herself for six months in 2013-14. Like Shorbaji's brothers, her crime was taking part in peaceful protest. Her husband was detained for two-and-a-half years; some of her other relatives are still unaccounted for, presumably dead or in jail.

"This is the wound of the Syrian revolution that never heals," says Khawlani. She breaks down in tears as she lists the different methods of torture used in prison. "People arrested are not given the bullet of mercy – they die from being over-tortured or from untreated disease. The Syrian regime does not have mercy." A UN commissioner recently said that conditions in Syrian prisons are so bad they amount to "extermination".

Families for Freedom's main demand is that all those arbitrarily arrested are released, but it has more modest aims in the meantime. They want medical care for prisoners and visitation rights for families with international protection. If detainees have died, they want to know how they were killed and where they are buried. They also want death certificates. For married women it can be particularly difficult to move on – to inherit property, for example – without these.

"With no death certificate, women can't remarry, get hold of property, or access help for their kids," says Anna Fleischer, communications and advocacy director at Women Now for Development. "These practical issues are very difficult to deal with when someone has disappeared."

The group also demands that arrested people are tried in civil courts, rather than in military field courts where it is difficult to get a fair trial. "Each person has the right to be free and not to be arrested without justification, with no reasonable cause," says Khawlani.

After holding protests in Geneva, the women sat down with the UN's special envoy on Syria, Staffan de Mistura, and a host of other officials, to set out their demands. The response was positive, but given the regime's reluctance to engage seriously with diplomatic efforts, they are not hopeful of immediate change.

"God willing, I'm optimistic, and I'll keep working until the last drop, until I see the freedom of detainees, but we don't expect anything from them in the near future," says Shorbaji. "We will do anything we can so that we don't feel that we're not doing enough for our detainees."

The Syrian opposition has accepted the demands, but there has been no response from the regime or their Russian allies.

Protests by women – primarily mothers – about disappeared family members have a long history. In Colombia, the Mothers of La Candelaria started marching silently through the streets of Medellín in 1998, echoing protests by the Argentine Mothers of the Plaza de Mayo(who have taken part in more than 2,000 marches since 1997). Both groups succeeded in drawing international attention to the plight of the disappeared and applying pressure to their respective governments. More recently, in Ukraine, mothers of the civil war's disappeared have protested.

For Khawlani, Shorbaji, and thousands of other families, not knowing the fate of their loved ones is particularly painful. "The regime keeps this as a threat against people participating in protest," says Khawlani. "When a woman knows her husband has passed away from a shot it is easier than if he is arrested. Then he is dying every day."