The diaspora groups bringing aid to Syria: 'This isn't a job, it's now our life'
When Rola Hallam arrived in the UK at 13 from Syria, speaking no English and knowing nothing of British culture, she felt like she'd landed on a different planet. Her gynaecologist father had accepted a job at a British hospital, and the whole family relocated, pitching head first into 1980s Cambridgeshire.
"I felt like I was wearing really weird clothes," she remembers. "It was very white middle class." Thrown into an English school, Rola showed her mettle: nailing her GSCEs within two years while also learning English, landing a place at medical school and becoming a consultant doctor with her beloved NHS.
Then five years ago, her life transformed again. This time, the cause was war in her homeland. She watched with horror as Syria collapsed and her phone rang daily with awful news: family members killed – on one occasion, 18 of them in a single day. Family lands gone. A community torn apart. Thousands of miles away as she was, Hallam could not just stand by.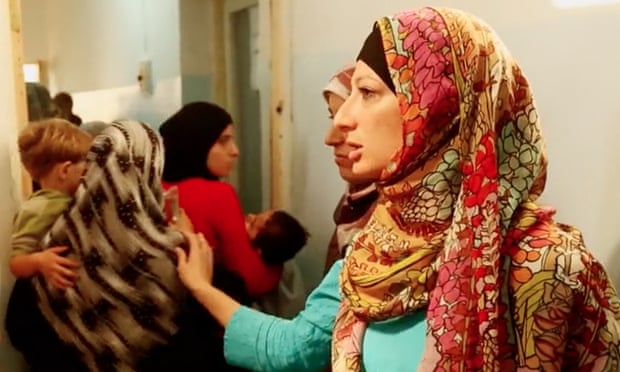 Rola Hallam helping to evacuate parents and children from a hospital in Jabal Zawieh. Photograph: Darren Conway
Now she has a second career: indefatigable activist, first hand medical witness to the horrors of the Syrian war, and a leading voice in the Syrian diaspora humanitarian movement as medical director to diaspora aid organisation Hand in Hand for Syria.
Hallam is not alone. As the official response has struggled, the crisis has given birth to a global network of new humanitarians as Syrians on the ground and overseas have come together to find ways to get aid to their beleaguered country. Unorthodox but determined, inexperienced but with a deep knowledge of their country, they've created aid procurement and delivery systems handing everything from food aid to hospital management.
Most, like Hand in Hand for Syria, did not even exist five years ago: an incredible 600 – 700 NGOs have been founded inside and outside Syria since the war started in 2011. Collectively, they manage an estimated 75% of the aid getting into the country. "In many areas, grassroots networks are the sole source of assistance," says a spokesperson for Syria Solidarity UK. "They are well organised, well managed, and they need to be taken seriously," says Eva Svoboda, author of a paper on the Syrian diaspora humanitarian response.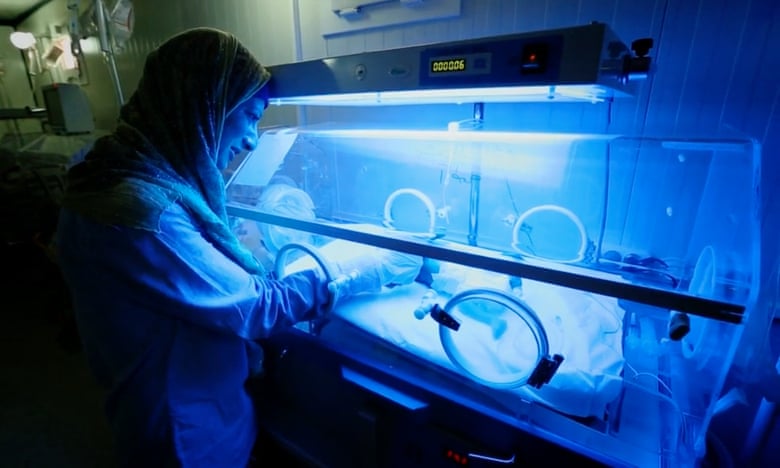 Hallam in a neonatal unit at Atmeh Children's Hospital: 'This is where we look after premature babies and sick newborns' Photograph: Darren Conway
For Hallam, as for many, this path started with the strangeness of watching the violence from afar. A cousin had just become a trustee for Hand in Hand for Syria, founded by Nottingham food factory manager Faddy Sahloul and his wife just a few months previously after they started packing boxes of aid in their front room. Within a few months she was on the ground as a volunteer, trying to deliver aid amid the chaos of war.
"I remember travelling to Atarib, close to the frontline, and I was going to do the first needs assessment for a hospital, but on the way there was a bakery that had been hit by a plane and there were masses of casualties so we had to jump into the first field hospital we saw patients being taken to and I did my medical role. A few hours later we thought hang on, we were supposed to be doing something else. But you can't just leave civilians," says Hallam. On one occasion, she ended up treating teenage survivors of suspected chemical attacks in Aleppo.
Hallam has also had the strange experience of witnessing first hand her country's slide from prosperous homeland to the kind of desperation she'd seen elsewhere when volunteering in East Africa. She remembers visiting the camp at Atmeh – "it reminded me of what I'd seen on the Sudan/Kenyan border. I remember thinking: is this where we are?" And it's not just the dissonance. "There's part of me that gets very angry about the portrayal of Syrians in general, because Syrian and local NGOs have been the mainstay of the humanitarian response."
Fuelled by determination, Hand in Hand for Syria grew astonishingly fast. From that husband and wife team has grown an international, formally registered charity with an administrative HQ in London, an operational HQ in Turkey, over 500 staff – mostly inside Syria – and a turnover of £7m in 2014.
Of the international humanitarian response, she is scathing – a view born mostly of recent experience. She says she spent months reaching out to INGOs: having no contacts, she says she would literally call up the switchboard. "I was trying to push a lot of the INGOs to partner with us. It's a good concept, but now I think it's a very fundamentally flawed marriage. I used to think it was the big international organisations that go around saving the world. I now know it's the local and national NGOs."
Hand in Hand for Syria does now have relationships with over a dozen international organisation such as Shelterbox, who today provide two-thirds of their funding – but as Hallam says, it's been an uphill battle.
International organisations have certainly struggled with this new phenomenon. Svoboda found that "the formal humanitarian system finds it extremely difficult to establish genuine, inclusive partnerships". Some challenges – the inexperience of new groups in meeting rigorous reporting requirements or measuring impact, for example – are real. But Svoboda says established aid organisations need to adapt. And Hallam is passionate about the particular skills that diaspora groups bring. "We have such a profound appreciation of the cultural, historical, societal context," she says. "And this is our country. This isn't a job. It's now our life. We're doing this for something far greater than any of us, or our organisations."
In tandem with her work in Syria, Hallam still works for the NHS, trading stints on the ground with treating patients at the Royal Free hospital in London. Switching between two worlds, she says, isn't easy. "I remember telling one of my nursing colleagues that I had to go home and pack as I was going to Syria, and she said: have a lovely holiday!"
Nevertheless, she says, Hand in Hand for Syria is here to stay. And for Hallam there's no going back. Any disruption this has caused in her life pales, she says, next to the impact of the conflict. "The impact isn't so much the work, it's the war. The impact is your family being killed, your home being destroyed, the sadness and anger and on-going grieving that surrounds you. The rest is small change in comparison."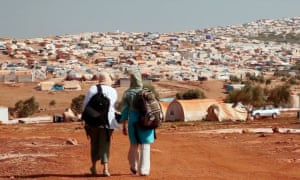 Hallam at Atmeh camp near the Turkish border: "This isn't a job. It's now our life." Photograph: Darren Conway